---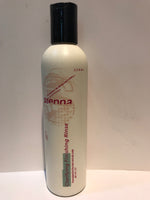 Formulated for fine and oily hair.  Gently removes the excess oil produced by over-active sebaceous glands whilst adding volume to fine hair.  Clarifying conditioner adds volume, aids manageability and protects the hair from climatic conditions without stimulating the scalps natural production of sebum.
Formulated for fine hair and oily scalp
Ph: 4.5 - 5.5
Clarifying Finishing Rinse will not leave the hair feeling oily or heavy and lank, and should be used after shampooing in place of a conventional conditioner.  Clarifying Finishing Rinse is a special low viscosity rinse formulated to assist in ease of distribution through the hair.
DIRECTIONS:
First shampoo with SIENNA Clarifying Shampoo.  Apply a small quantity of finishing rinse and gently work through the hair to the tips.  Leave on for 1 minute before rinsing thoroughly. Dry and style as usual.  For an excessively oily scalp or forehead, apply SIENNA Scalp Tonic with cotton wool to assist in removal of excess sebum prior to shampooing.