---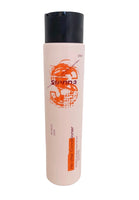 With Biotin to reduce excess hair loss.
All Hair Types
pH: 4.5 - 5.5
SIENNA Re-Vital Conditioner contains Biotin, a natural B Vitamin which, in clinical trials has shown to be effective in reducing excessive hair loss through regular use.  SIENNA Re-Vital Conditioner contains, in addition to Biotin, Vitamins A, C & E along with organic proteins essential for beautiful shining healthy hair.
DIRECTIONS:
First shampoo with SIENNA Re-Vital Shampoo.  Rinse thoroughly.  Apply conditioner and gently work through the hair to the scalp. Leave on for a minimum of 3 minutes. Rinse well with clear water.